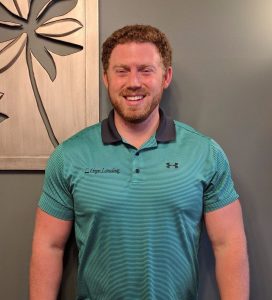 Joel has been with Hope Landing for over 9 years. Since hired, he has served in multiple roles including caregiver, project manager, and now serves as our Executive Director. His primary charge is to manage the day to day business operations, he also enjoys assisting our owner with business development. Joel came to Hope Landing fresh out of college with a degree in Biology from Olivet College. He found his niche while caring for the residents of Hope Landing. Since graduating Olivet, Joel has received his Certified Assisted Living Director and a Certified Dementia Practitioner. His service extends beyond Hope Landing as he helps the Michigan Centers for Assisted Living as the Marketing Committee Chair. He is also a Board Member of The Charlotte Rotary club. Joel is happily married with a four-legged baby. Joel enjoys staying active through many forms of physical exercise. The area of his job he enjoys the most is one on one time with each resident. The time spent connecting, building relationships and sharing stories is why he loves coming to work each day.
Director of Operations & Dining Services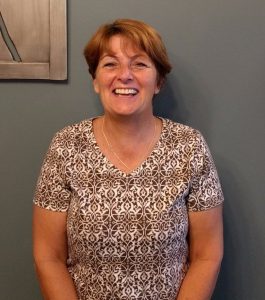 Director of Operations and Dining Services, FranCee English, grew up in the Chicago suburbs. She moved to Michigan over 30 years ago. Before coming to Hope Landing she helped her husband manage the Charlotte Country Club, where she oversaw the restaurant and lounge operations. Prior to being employed with Hope Landing, she did some volunteer work. During this time, she fell in love with the family-like environment. After the Country Club was sold, she decided to join the Hope Landing team.
In her spare time, she loves spending time with family. She loves the outdoors and attempts to golf.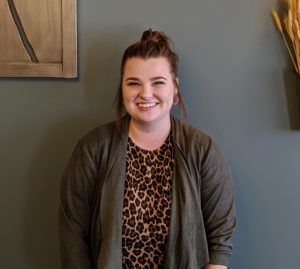 Maddy has been with Hope Landing for over 3 years. She came to Hope Landing fresh from Central Michigan University. Because Maddy had experience in food service at CMU she initially joined Hope Landing in the kitchen. At the time, she thought it would be a year or less tenure. After a while Maddy decided to try being a Caregiver within the business. It was during this time that her heart was really changed and she decided that caring for seniors is what she was meant to do. Maddy has always been a favorite of our residents and has frequently been voted Teammate of the Quarter by her peers.
All of her success lead to her earning her current role as our Care Team Coordinator where she leads our care team. Outside of work Maddy has many hobbies. She has two pups which she loves to snuggle, she enjoys painting, playing card, watching TV and renovating her 100+ year old farm house.
The comfort and peace of mind we felt as we walked through the doors of Hope Landing for the first time, was remarkable. We had visited many different places, but at Hope Landing we felt welcomed in the same way you would from a family member. We knew from that very first visit, this was the place where we would want our father to stay. The manner … Read more